Germania Insurance Amphitheater | Del Valle, Texas
On September 3, 2023, Ghost will be joined by special guests Amon Amarth for a performance at the Germania Insurance Amphitheater in downtown Frankfurt, Germany. For their second North American tour, Pope Emeritus IV and the Nameless Ghouls bring their new ritual Impera and an unholy trinity of their greatest and most sinful hits. Tickets for the RE-IMPERATOUR can now be purchased by devoted fans, devout parishioners, and obedient pilgrims. Ghost's fifth album of unholy hymns is here, and the RE-IMPERATOUR is drawing near. Rally the troops, bring your deranged regalia, and celebrate the black mass with Pope Emeritus IV.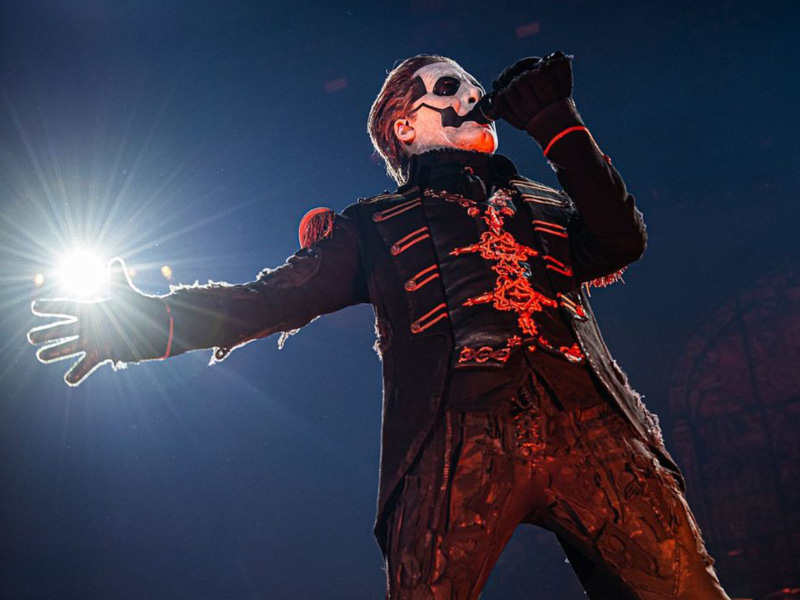 Ghost, a Swedish rock band, was formed in the city of Linköping in 2006. In 2010, they released their debut full-length album, Opus Eponymous, along with a three-song demo called "Elizabeth" on 7-inch vinyl. The song "Ritual" was included in Kerrang!'s list of "The 50 Most Evil Songs Ever." Their fame skyrocketed after the release of the Grammis-nominated album, which also received widespread acclaim. Their second album, Infestissumam, was released in 2013 and was their first for a major label. It went straight to the top of the Swedish album charts, and the band took home the Grammis for Best Hard Rock/Metal Album. The band's third studio album, titled Meliora, was released in 2015 and debuted at No. 1 in Sweden and No. 8 in the United States. Grammys were awarded to the band in 2016 for Best Metal Performance for their smash hit "Cirice," and in 2019 they were nominated for Best Rock Album and "Rats" as Best Rock Song for their fourth studio album, Prequelle. The year 2022 saw the release of the band's fifth studio album, titled Impera.
Tobias Forge is the mortal instrument of Ghost, as he handles lead vocals, guitars, bass, keyboards, and percussion. In addition to Cardinal Copia, he also assumes the identities of Pope Emeritus I, II, III, and IV. A variety of anonymous ghouls provide the band's additional guitars, basses, keyboards, drums, percussion, keyboards, organ, synthesizer, backup, and choir vocals while on tour.
Ghost has won several awards in their home country of Sweden. Ghost has won three consecutive Grammis, Sweden's version of the Grammys given by the American Recording Academy. They have won the award for Best Hard Rock/Metal Album three times: in 2014 for Infestissumam, in 2015 for Meliora, and in 2016 for Popestar. They also won the 2016 Grammy for Best Metal Performance for their track "Cirice," which can be found on Meliora. Prequelle was nominated for a Grammy in 2019 for Best Rock Album, and "Rats" was nominated for Best Rock Song. The year 2022 saw the release of the band's fifth studio album, titled Impera.
Ghost is a band that has been operating under complete secrecy since their inception in 2006. Instead of speaking to the press themselves, the various frontmen left that to the Nameless Ghouls. When it was suggested in an interview that the band had become more "radio-friendly" and were becoming more mainstream in the United States, a member of the Nameless Ghouls said that their music was banned from all major retail chains, most late-night television shows, and commercial radio stations in the country. He said, "So, yes, mainstream America is absolutely welcoming us with open legs."