Germania Insurance Amphitheater | Austin, Texas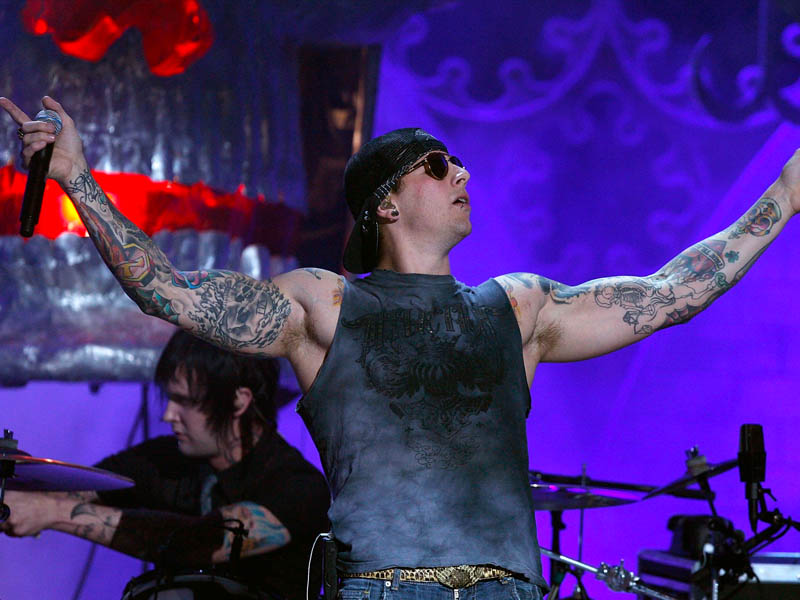 Hair-spinning, face-melting showdowns and massive circle pits are set to conquer the Germania Insurance Amphitheater! If these activities are to be expected on show day, Friday 13th October 2023, then it can only mean one thing! The iconic heavy metal powerhouses Avenged Sevenfold and Falling in Reverse are joining forces to deliver Austin, Texas, one epic performance! And it's set to include all your favorite head-bang-worthy hits! Avenged Sevenfold recently came out with a groundbreaking new album, Life is But a Dream…, which features chart-performing singles "Nobody" and "We Love You." Meanwhile, Falling in Reverse is currently making waves with their latest EP, Neon Zombies, which spawned three critically acclaimed rock hits, "Voices in My Head," "Watch the World Burn," and "Last Resort." Expect high-powered vocals, blast beats, and searing guitar solos as these two metal maniacs take over the Germania Insurance Amphitheater! Austin will never be the same after this show! Hurry and secure your tickets now!
California-natives Avenged Sevenfold is here to prove why they are at the forefront of the new wave of American heavy metal era. As they promote their latest album, Life is But a Dream…. Avenged Sevenfold is packed and ready to deliver high-energy and wildly exhilarating sets. They're here to show heavy metal fans they remain at the top of their game. This 2023, the band's setlist is every headbangers dream. With tracks spanning eight albums, you'll surely get the different eras of the metalcore giant. Their setlist has been known to include countless fan favorites, such as "Hail to the King," "Buried Alive," "So Far Away," "Nightmare," and many more.
The band is one of the most influential purveyors of dynamic guitar solos. Since their debut, lead guitarist Synyster Gates was belting out lightning-speed solos and shelling out outstanding licks like it was nothing. This was a breath of fresh air during a time when nu-metal was all the rage. After the emergence of Avenged Sevenfold, many similarly sounding groups also came out. But this quintet from Huntington Beach was offering something that cannot be replicated. For starters, the band has a highly-regarded vocalist, M Shadows, whose range and technique are unmatched. Meanwhile, guitarists Synyster Gates and Zacky Vengence had an incredible tandem that is not only pleasing to the ears but is also a sight to behold on stage. Lastly, former drummer The Rev completed the band's high-powered tight sets. He was later replaced by the tremendously talented Brooks Wackerman.
Falling in Reverse is steadily rising in its ranks with Ronnie Radke and co. strives for a more mature sound coupled with electronic elements. The band has been known to not shy away from using samples. But with Radke belting out sick rap lines, there is no question why the band has been at the forefront of musical experiments. Their critically acclaimed 2023 EP Neon Zombies has been making waves across the world with incredible chart-performing hits like "Voices in My Head," "Watch the World Burn," and "Last Resort (Reimagined)." Fans can anticipate these crowd favorites during their show at the Germania Insurance Amphitheater. Aside from new hits, older staples like "Popular Monster," "Losing My Mind," and "The Drug in Me is You" will also take precedence during their fall set.
Score your tickets now to see Avenged Sevenfold and Falling in Reverse conquer the Germania Insurance Amphitheater on Friday, 13th October 2023!